Friday 18 December
Coronavirus update
It is hardly surprising we find ourselves in the stricter tier 3 category from tomorrow: the number of new cases in our immediate area soared last week. In the week ending last Saturday night there were 19 new cases in Tylers Green compared with three the week before. In the Penn/Holmer Green/Forty Green area there were 18 new cases compared to one or two the week before, while in Hazlemere there were 26 new cases compared to four the week before. Quite why such a leap when figures had been dropping steadily in recent weeks remains a mystery for now.
Buckinghamshire Council leader Martin Tett said last night that the number of cases throughout the county had more or less doubled in the last couple of weeks. On Wednesday he met with local hospitals and NHS representatives in Buckinghamshire who said they are now experiencing "severe pressure."
GP surgeries in the local area expect to begin vaccinations for the most vulnerable next week. They will start with the over-80s. Both Penn Surgery and Highfield Surgery are asking patients not to contact them about the vaccine. The NHS will contact patients directly to make arrangements for the vaccine.
Schools break up for the Christmas holidays today but parents are being asked to inform them if their children develop Covid symptoms this weekend so the schools can inform other parents. At the moment primary schools are expected to return on Tuesday, 5 January, although there are staggered starts at senior schools.
Windsor Theatre Royal said it was cancelling its pantomime Cinderella from tomorrow at least until the next Government review of tiers on 30 December. It says it will contact customers with tickets to explain options open to them. The Norden Farm Arts Centre in Maidenhead is closing until 13 January but plans to put many of its shows online. The Elgiva at Chesham has abandoned its panto Sleeping Beauty but plans to re-stage it in the February half term. Wycombe Swan an Aylesbury Waterside remain closed at least until the end of January.
Pubs are having to close but many are deciding this weekend what, if any, services they will offer. Takeaways are still permitted but some pubs and restaurants don't find that profitable. The Squirrel in Penn Street said last night it will be providing takeaway food and drink from tomorrow throughout the Christmas period (except Christmas Day)
Hazlemere Golf Club has cancelled the Christmas pop up market it had planned for this weekend, but is holding a final one today, Friday. Libraries will remain open in the coming weeks but with restricted hours and services.
Police raided a house in the Marlow Hill area of High Wycombe last Saturday night where 200 people were crammed into the rooms dancing. The organiser, who apparently sold tickets for the event, has been handed a £10,000 fine for breaking Covid rules.
And now for some good news….
Words of hope from our greatest survivor
HERBERT Druce, our oldest resident, has recorded a reading for the on-line audio Christmas Day service being produced by Holy Trinity, Penn and St Margaret's, Tylers Green. Herbert, who has spent most of his life in Hazlemere Road and remembers Coppice Farm Road when it was just Coppice Farm, will be 106 on 5 January.
Although he's been in hospital recently he is now back and in fine fettle. He beat the Spanish Flu in 1919 and he's in no mood to give way to this infection. You can hear or view all the churches Christmas services on their website and clicking the appropriate button for the appropriate service: https://holytrinityandstmargarets.co.uk/5262-2/
Twenty three minutes of pure joy
NO CHRISTMAS concert this year but the children at Manor Farm Junior School have spent weeks in their classroom bubbles rehearsing their songs before the video cameras. Now the school has kindly put the show on You Tube for parents and the rest of us to enjoy. Watch it. It's 23 minutes of pure joy… https://manorfarmschool.org/2020/12/merry-christmas/
Follow the Ho-Ho-Ho tracker
THE local scouts have dusted off the old sleigh, polished it up and made it serviceable enough for Father Christmas to make a welcome return visit to the streets of Penn and Tylers Green next week…with a 21st century twist. If you have any little ones who would like to give him a wave from the window between 5.30 and 7pm here's the proposed itinerary…
Monday (21st) – Starting from Holy Trinity and travelling along Church Road ( Penn), Elm Road, School Road, Bank Road, Church Road (Tylers Green), Wheeler Avenue, Cock Lane and Ashwells (plus Kingswood Avenue if time permits)
Tuesday – Meadow Walk, Court Lawns, Ashley Drive, Old Kiln Road, Coppice Farm Way, Rose Avenue, The Lawns, Kings Ride (plus The Greenway and The Pines if time permits).
Wednesday – New Road, St John's Road, Kitewood Road, Kingswood Road, Southcote Way (plus Hillside and Manor Road if time permits).
The clever chief elf, Adrian, has fitted a GPS tracker to the sleigh this year so you can check Santa's progress via this link https://glympse.com/!PTGSanta
His elves will be collecting for the Carers Bucks charity, but it will be warmer, and probably a bit safer, to donate via the Just Giving page https://www.justgiving.com/fundraising/carolsonthecommon
Where are you Caroline?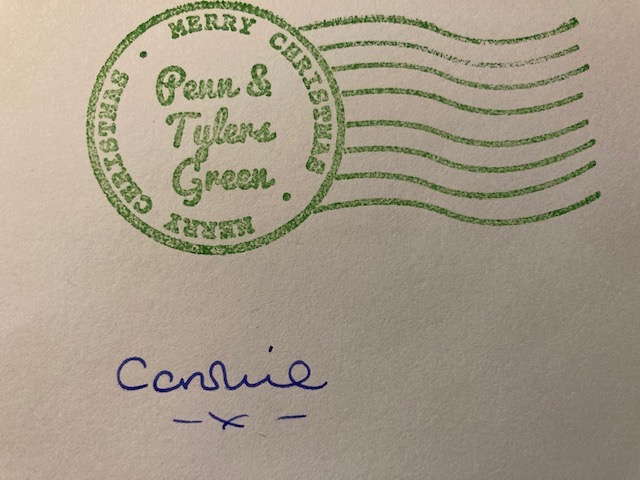 NOW here's a challenge. The scouts and their friends have been really busy this week delivering Christmas post in Penn, Tylers Green and Manor Farm, but there's one that's got them stumped. A card simply addressed to Caroline. They really would like to deliver it before Christmas so if you can help solve the mystery in any way please call or text Charles on 07885 209239.
The volunteers are carrying out this service completely free of charge – the last collection in local shops is tomorrow, Saturday – but if you would like to show your appreciation by donating to their chosen Christmas charity, Shelter, you can do so on https://www.justgiving.com/fundraising/penn-tylers-green-scout-group. The Just Giving page will remain open until the the new year. By this morning it had reached £470 and they really would like to get it up to their £500 target.
MP's vaccine stand
WYCOMBE (and Tylers Green) MP Steve Baker spoke in favour this week of a petition calling on the Government not to compel people to take the Covid vaccine…even though the Government has said it has no intention of doing so.
More than 307,000 people signed a parliamentary petition (589 in Wycombe) and Mr Baker told MPs on Monday: "We cross an ethical boundary if we compel people to take a medicine." He added: "This disease, dreadful as it is, has an infection fatality rate of about one per cent overall, so there can be no question of coercing people directly to take the vaccine."
But on behalf of the Government, junior minister Nadhim Zahawi urged people to take the vaccine. "Not only is the vaccine effective and proven to be clinically safe, but the quicker we are able to vaccinate people, the quicker we can bring forward the date when we can begin to lift the oppressive restrictions that we put in place with a truly heavy heart," he said.
Cheryl's Covid confinement
MEANWHILE Penn's MP Dame Cheryl Gillian is bogged down in a furious argument with the Government over Covid arrangements in the House of Commons. Dame Cheryl was recovering from a major operation when the first lockdown occurred and is still clinically vulnerable. Consequently she has not been able to be present in the Commons since February and has to vote on issues by proxy.
However, in October the Government introduced restrictions on MPs who take part in parliamentary business remotely. For instance, Private Members Bills have to be introduced in person in the Commons so Dame Cheryl had to ask another MP to introduce and follow-through her bill to make it easier to crack down on illegal drug use in prisons. She is also unable to take part in debates in Westminster Hall, where many important issues that can't be accommodated in the Commons are considered.
Last week she laid into William Rees-Mogg the leader of the Commons. "It is an affront to democracy," she told him. "It is a shameful position for the mother of parliaments and a very poor international example. It makes a mockery of business questions. What is the point of requesting a debate when people like me cannot take part in it?"
Mr Rees-Mogg offered tea and sympathy but no solution. "I would very much like it to be possible to allow people who are seriously clinically vulnerable to be able to participate, but I cannot give her any firm date at the moment," he said.
Will the new housing rules kill the Gomm Valley plan?
THERE is some relief in Buckinghamshire Council over the Government's change of mind on new housing figures this week. The computer based formula which would have imposed tens of thousands of new homes in South Buckinghamshire has been scrapped in favour of one that places more homes in town and city centres as well urban areas in the north and midlands.
Bucks councillors and planning officials will now spend the first part of next year looking at how the changes affect the county. On Tuesday councillors agreed to keep their local development scheme under review "so we can respond to changes as and when they become firmer and clearer."
It will almost certainly mean the final nail in the coffin of the proposed South Bucks Local Plan which struggled to meet the target of building 16,000 homes in the Beaconsfield and Amersham area over the next 16 years. The proposed solution of lifting a dozen local villages out of Green Belt protection, including Winchmore Hill and Little Kingshill, will bite the dust.
Whether the change of heart prevents the development of 1,000 homes in the Gomm Valley, between Cock Lane and Hammersley Lane, Tylers Green, remains to be seen however. The controversial plan has still to receive outline planning permission so councillors could put the whole thing on ice while they review their options…but the process may be too far down the line. Time will tell.
Local news
Road widening – Discussions are underway about widening Cock Lane near Tylers Green Middle School to provide a pedestrian refuge to be built in the middle of the road enabling visitors to a school to have a safer crossing from the public car park on the other side of the lane. It is also proposed the car park will have a separate entrance and separate exit.
Staff shortages – Year 9 and 10 pupils at Sir William Ramsay School worked from home from Tuesday until the end of term today because so many members of staff were self-isolating it was not possible to provide cover in the classrooms.
Contractor shortages – The pandemic meant that usual contractors were unable to quote for work in King's Wood, Tylers Green to urgently remove a number of ash trees affected by Ash Die Back disease. The owners of the wood, Chepping Wycombe Parish Council, had to accept the only quote on offer – £7.200.
Stress hit cops – The number of Thames Valley Police officers off work with stress and other psychological illnesses has virtually doubled in five years, figures issued under a Freedom of Information request showed this week. 450 officers were off work with such illnesses in April this year, just as a first lockdown began.
Lion without a roar – New owners opened the Red Lion in Knotty Green on Wednesday…only to have to close it again tonight. The three independent owners have bought the freehold from Punch Taverns and plan to turn it into a community pub free of any beer tie. They are also changing the name of the pub to The Lion of Beaconsfield.