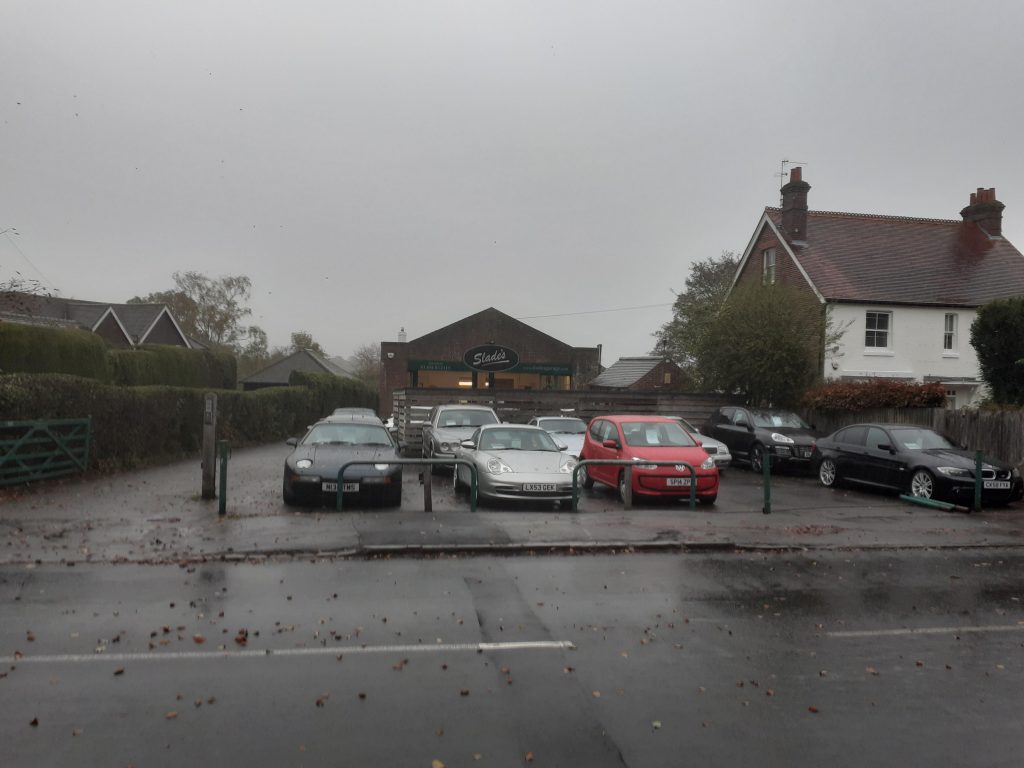 PLANS have been submitted to demolish the former Winter's Garage in Church Road, Penn and build a substantial house and garden in its place.
The site is owned by Daniel Till who runs the classic car dealership at Slade's Garage opposite. He has told planners he intends to consolidate all of the garages' business into Slade's.
The garage was built 70 years ago by Walter Carden who lived in the cottage at the rear, now called White Cottage, and whose parents and grandparents ran The Crown in Penn when it was a hotel. The garage was then run for many years by brothers Peter and David Short, before being taken over by Tim Winter, former landlord of the Red Lion in Penn. His attempts to convert the garage into flats and then offices were repeatedly rejected by the council and the garage closed for business in 2006.
The site is within the Penn and Tylers Green Conservation Area and the architects say the plans for the four or five bedroom house are "mindful" of the location. The current parking lot will be converted into a garden surrounded by a hedge. The architects conclude: "The dwelling would have a positive impact on the local area and will be replacing a current eyesore in the conservation area."
You can view the plans on the Chiltern Council planning page of its website, typing in the planning number PL/20/2515/FA.
Coronavirus cases in the community continue to rise
THERE has been another rapid rise in the number of new cases of coronavirus in the immediate area in the past few days.
Last week there were 16 new cases in the area that includes Penn, bringing the number of positive cases to the equivalent of 182 per 100,000 of the population. In Tylers Green there were nine new cases (159 per 100K), and Hazlemere 12 (129 per 100K). Adjoining Flackwell Heath has the worst ratio in the Wycombe area – 189 per 100k). In South Bucks as a whole the ratio is 161 per 100K
Normally these sort of ratios would persuade the council to ask the Government to put the county into the higher tier two Covid restriction zone, but the increase in new cases is lower in other parts of Bucks. Nonetheless health officials are assessing the impact on a daily basis.
Council leader Martin Tett said today: "At present most cases are in the younger age ranges so hospital admissions remain low.
"However this virus is continuing to spread into older age groups and this could mean a rise in hospital admissions in three or four weeks time as more vulnerable groups are infected. This would coincide with when hospitals are at their busiest during the winter months.
"Therefore Buckinghamshire is increasingly on the Government list as an area of concern and for potential movement into tier two, with extra restrictions across a range of our everyday freedoms and impact on jobs."
Man dies after apparent road rage incident on Amersham Road
POLICE are appealing for witnesses after a man died in an accident on the Amersham Road near Penn Street following an "altercation" with another driver.
The man in his fifties died three days after last Friday's accident which blocked the road by Beamond End for several hours. Police say he was driving a Vauxhall Corsa and had been involved in "some sort of altercation with the driver of a silver Ford Focus" prior to the collision. They are asking for any witnesses or people with possible dash-cam footage to get in touch.
A woman in her forties who was involved in the collision and was trapped in her white Volvo is in a serious condition in hospital. Reports say two children, a boy and a girl, were also slightly injured. No details have been given about the dead man or those injured.
The accident happened at 3.22pm on Friday, 23 October close to the Amersham Road junction with Sheepcote Dell Lane. Call 101 or Crimestoppers on 0800 555 111 if you can help.
News in brief
Carols postponed – Organisers of the annual Penn and Tylers Green Carols on the Common have decided that this year's event will be unable to proceed because of coronavirus restrictions.
Post box threat – Royal Mail has warned it will withdraw the postbox in Church Road, Tylers Green, at the top of the back common, unless people prevent their dogs fouling on and around it. They say emptying the box is becoming a health hazard for their staff.
Accident blackspot – Hazlemere Crossroads has been named the 19th worse crash site in Buckinghamshire in a survey of minor and major road accidents over the past five years by Transport for Buckinghamshire.
Fuel leak – Firefighters were called to deal with a vehicle leaking fuel in Church Road, Penn this morning.
Backlog cleared – Bucks NHS Trust says it is making special arrangements to clear a backlog of patients requiring cataract operations that's built up during the pandemic.  They are planning to carry out 500 cataract procedures in two weeks in November and have equipped a mobile operating theatre to treat a further 4,000 cataract cases. Meanwhile, at Amersham Hospital a new mobile  CT scanner has been purchased to help reduce scan waiting times.
You can contact this blog on peter@pennandtylersgreen.com